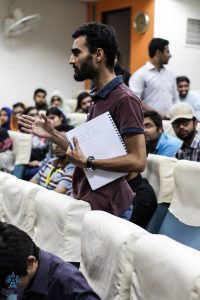 Suicide is a moral degradation for any society. It's not only death of the one who attempts it, but its death of the society as a whole. It's an embarrassment for its people, and it summarizes the weak bond they share and contentious nexus they exhibit with one another. On the other hand, we see a cluster among the masses who believe that there are no consequences for any action, but actions do have consequences. They believe that every person has a choice, an honor to his cause. NUST 12th FORTNIGHT DEBATES, gave this issue a perfect platform for an open argument, where the two factions could collide and, probably, draw an imminent picture of the reality.
The event drew out from an engraving texture, held an enchanting atmosphere. There was an Emotional spark endearing each and every heart that entered the very place. There was a cry for captivation, everyone wanted to be moved. The speakers, anxiously waiting, mentally well-equipped and formidably prepared for the task in hands. You could easily tell folks, we're in for a grand show.
As soon as the first speaker from the Proposition stance took the center stage, the crowd went astonishing, impelling her to go all the way. The improvisation of a stance that has an element of mass majority reliance looks easy, but delivering it to the highest still requires credibility. Suicide is deliberate!! Cried the notion that had sparkled throughout the arena.
In an event where the desire to win only succeeds, your stance only acts as a mere snippet compared to your determination. The next speaker from team Opposition had the crowd on a sudden back foot. She augmented the atmosphere through a pile driver of moral enormity. People become suicidal through circumstantial conspiracy, they become reluctant to their sufferings and end a life in which they were simply unable to compete.
How time flew, a mystery I suppose, as the crowd, a little hesitant yet admirably patience, waiting to get their say on the argument. Everyone in this arena had a story, they are all fighters of the modern era, striving to go further and facing all the problems life intends to throw at them. They had analyzed the situation well and seemingly, had opted their support to their respective perceptive. The speakers were challenged well, and they stood their ground even better.
The Second round was pretty much the same, we had both stances building up walls on their earlier laid foundations. By now the bar was already set, the crowd still generating an enthralling atmosphere. All four of the speakers contributed to their highest and winner was only left on the cards. Through voting, Team Proposition came on top. It was a genuine effort by both the teams, everyone today was educated and taught something valuable.
When you talk about life, you talk about 5 billion people and 24 quadrillion other beings that walk around this very planet. Some strive while others survive, and here we were putting light on the forgotten ones. Nearly 1 million people attempt suicide every year, there is a need to know what forces them to take such absolute measures. Both the stances contradicted, almost terminated one-another. Whether it's a choice or some circumstantial infliction, all I know is that every life is equally important. Together we hold the light of this universe. Some stars are bright while some are dull, but only together they illuminate a sudden dark sky. Every life is worth something Special. Embrace it, and no matter what happens.
Live to fight another day…